DOUBLE LIFETIME GUARANTEE

24/7 CUSTOMER SUPPORT

FREE SHIPPING
35-DAY FREE TRIAL
"Perfect product to protect and organize my 2 pistols. Great fit. Easy access. High quality materials at a great price. It's a no brainer." -Mike M.
Pistol Holder
Pistol Holder
Regular price
$49
Sale price
Unit price
per
OUT OF STOCK
FREE SHIPPING
In stock
Ships within 2 to 3 days

DOUBLE LIFETIME GUARANTEE
Our sleek metal pistol holder with thick foam bolsters is designed to hold two pistols for extra organization, protection and easy access. Fits perfectly in our Biocube Plus safe or any Mycube safe upon shelf removal. Equipped with black hardware for a modern look and feel.Read More
Additional Details

Black steel finish
Two slots for secure pistol storage
Hard foam placing pad
Lets you store firearms upright
Fits within the Biocube Plus
Fits in Mycube/Biocube styles by removing shelf
Lifetime guarantee
Specifications

Dimensions: 6" H x 4" W x 7" L
Double Lifetime Guarantee

We are proud to have a DOUBLE lifetime guarantee with 24/7 customer service with all of our products. With a family legacy of safekeeping that goes back 100+ years, we want you to know that your safe is covered for multiple generations.
Need more help? Check out our handy FAQ.
View full details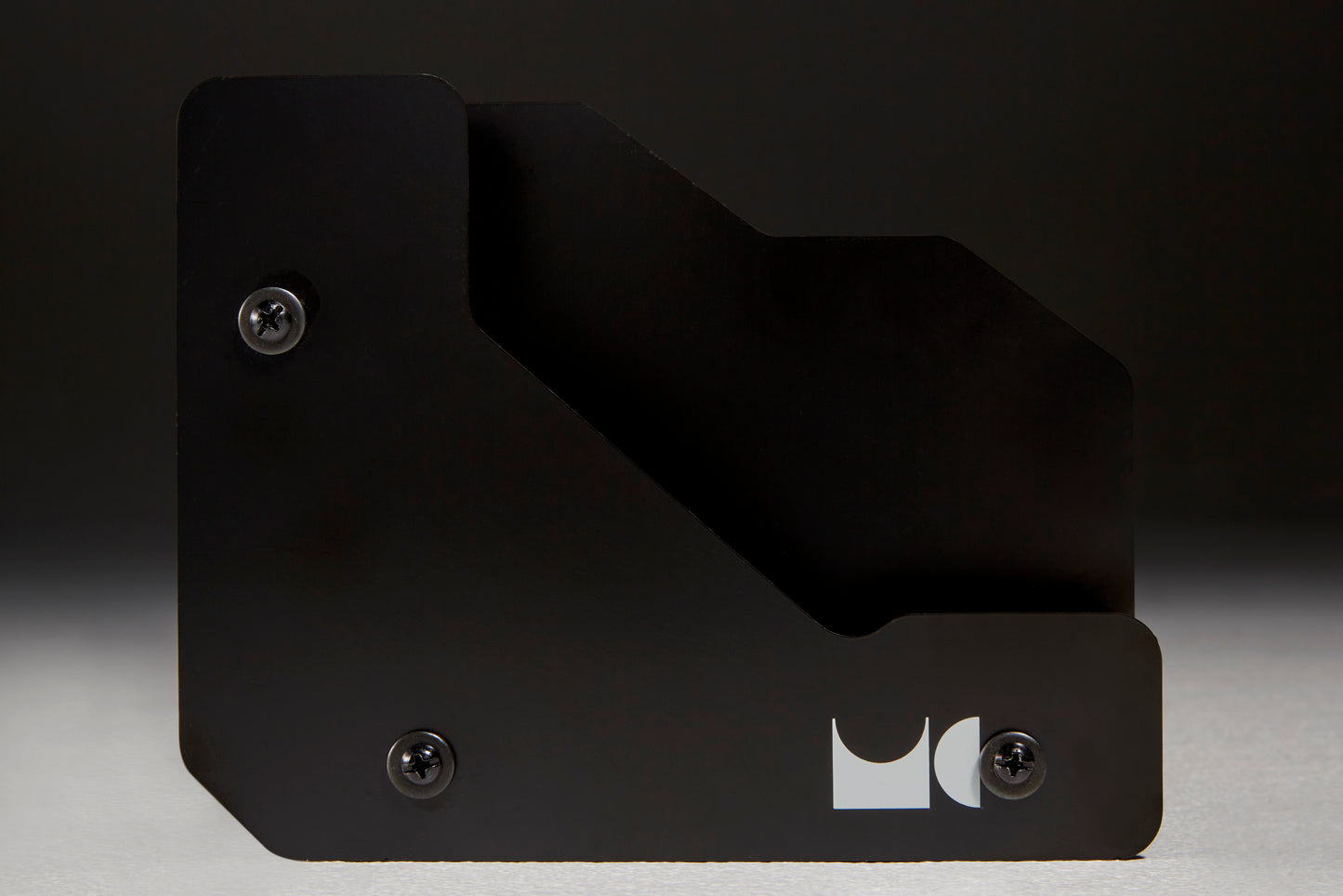 Product Information
Frequently Asked Questions
What are your Mycube safes made of?

Mycube, Mycube Mini, and Biocube and Biocube Mini home safes are made of one-eighth-inch (1⁄8") thick steel with plated-steel doors.
How do I open the door when I take my Mycube safe out of the box?

Each Mycube door is secured by fabric or a plastic door cover to prevent the door from opening during shipping and when being taken out of the box. If the door doesn't open readily, just give the keypad a pull and the door will open. Or you may tilt the door towards a soft carpeted floor so that the weight of the door allows it to open.
How do I open my Mycube if the batteries in the digital keypad run out?

Mycubes come with a manual override key that can be used to open the safe if the batteries need to be replaced. It's important to replace the batteries once every 12 months, and to keep the keys outside of the safe. Our Firecube safe has batteries on the outside of the safe and does not come with a manual key. Our Biocube Professional safe has a rechargeable battery that should be recharged every 6-8 months.
How do I secure my Mycube safe?

Our Mycube home safes come with a self-installation bolt kit that includes screws and washers, and that works with most small power drills. There are four holes on both the bottom and back of all Mycube safes where you may fasten Mycube to the surface of your choice. Our other safes have between one and six holes depending upon the model. A home safe installation diagram and video are located on our website in the How to Use section under each product type.
What are Mycube safes best used for?

Our home safes are best used for urban living, apartment buildings, homes, hotels, offices, and dormitories. Mycube is best suited to protect valuables, keep your items organized and locked up, and keep your valuables out of sight from people who access your home. The biocube line is perfect for customers wanting the benefits of the Mycube but with efficient biometric safe fingerprint access.
Do the jewelry trays fit in all of the Mycube safes?

Our 7Mix, single space, and 6V accessory jewelry safe trays fit in the Mycube (up to 5 trays), Mycube Mini (up to 4 trays), Biocube (up to 5 trays), Biocube Mini (up to 4 trays), Biocube Plus (up to 8 trays), Biocube Professional (up to 15 trays), Biocube InDrawer (1 tray) and iCube (up to 5 trays) safes. The Firecube only accommodates our fire safe trays, and also features an internal pull out tray for storing valuables and documents. The Firecube can fit one Fire Safe tray in the pull out tray, and up to 3 fire safe trays on the bottom stacked.
How many trays fit in each of your Mycube safes?

Our accessory trays are stackable, and you can store the trays accordingly: 5 trays in the Mycube and Biocube safes, 4 trays in the Mycube Mini and Biocube Mini safes. 8 trays in the Biocube Plus safe. 15 trays in the Biocube Professional safe. 1 tray in the Biocube Indrawer safe. 5 trays in the iCube safe. 4 trays in the Firecube safe (1 in the pullout drawer and 3 on the bottom.) The Firecube is the only safe that can fit just the Fire safe tray style (the other tray styles will NOT fit in the Firecube.) Whereas the Mycube and Biocube safes can accommodate any style accessory tray - including the Fire Safe tray.
How long is the fire rating for the Firecube?

The Firecube fireproof safe is certified for protection against fire for 1 hour at 1700 degrees fahrenheit.
Where is the battery pack located?

The battery pack is located on the back inside door of the safe. It is concealed by the black plastic cover, which can simply be removed by unhooking the clip. The Firecube fireproof safe has a battery pack that is located on the front of the door to the right of the keypad.
What does your lifetime guarantee cover?

Mycube guarantees our products for their lifetime use. If any safe part stops working at any time throughout original ownership, you may contact Mycube and we will provide the replacement parts at our cost. Batteries are not covered under this warranty. Labor may be covered by Mycube should the replacement part be required due to a faulty part rather than an incident caused by forgetting to change your batteries, for example.
How does the iCube work?

iCube is a revolutionary WiFi connected smart safe that pairs with your smartphone to allow you to operate your safe from anywhere in the world. The safe connects securely to your WiFi network, and then pairs with our native, secure Mycube Safe smartphone app (available for both iOS and Android) to allow you to lock and unlock your safe with your smartphone. With the iCube you can receive tamper alerts, manage safe inventory, see an audit trail of activity, manage multiple safes, and add users. iCube comes with a lifetime guarantee on parts and a 1-year warranty on connectivity.
Save $100
Enjoy Fingerprint Access with Our Biometric Product Line
Buy a second safe and get $100 OFF with code: MYC100
Biocube Professional
Regular price
$1,475
Sale price
Unit price
per
57" H x 15.75" W x 12" D
Biocube Professional is our heavy-duty biometric large storage safe for items of high value.
Perfect For
Cash
Artwork
Collectibles
6 Rifle Collection
Biocube Plus
Regular price
$725
Sale price
Unit price
per
16" H x 19.5" W x 13.5" D
Biocube Plus provides the same best-selling biometric capability as our classic Biocube line of home safes in a larger format.
Single Space Tray
Regular price
$99
Sale price
Unit price
per
1.5" H x 9.5" W x 11" L
Our Single Space Tray is our most flexible option for storing an array of precious items.